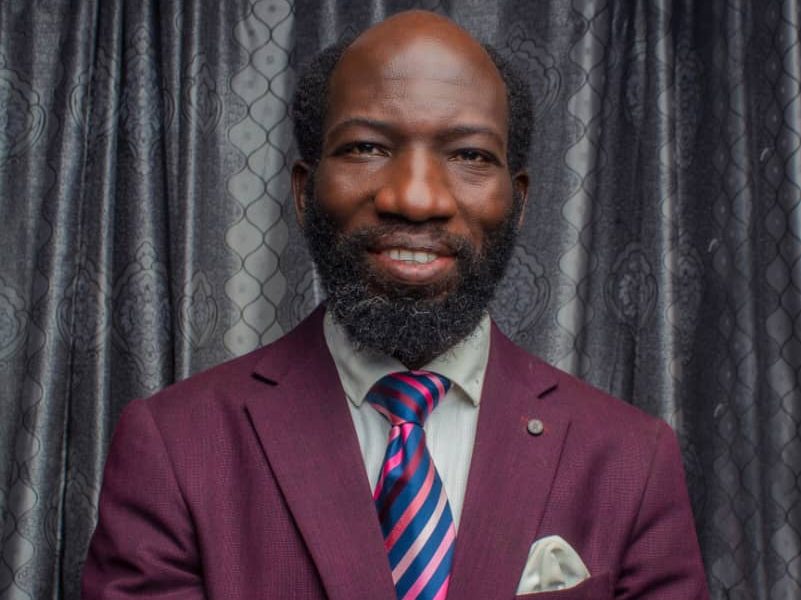 On July 12th, the Pastor of a Southern Kaduna church, Gideon Mutum, received a threat letter from unknown people suspected of being bandits. A little backstory, Pastor Gideon Mutum is the head pastor of Governor's Assembly Church in Kafanchan, Jama'a, Kaduna State. He is passionate about helping the people of Southern Kaduna that suffered under attacks from militants, Fulani herdsmen, and bandits. He established schools to support children displaced by the violent attacks. Pastor Gideon, his family, the schools he built, and the church are all under threat.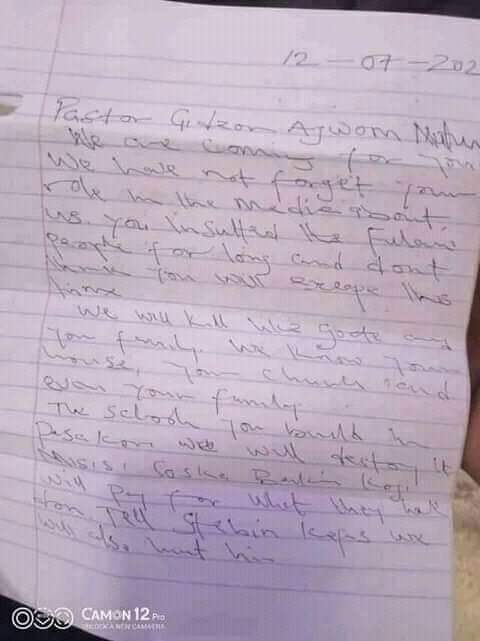 Letter's Transcript
12-07-2021
"Pastor Gidzon Ajwom Mutum. We are coming for you we have no forget your role in the media about us. You insulted the Fulani people for long and don't think you will escape the time. We will kill like goat and you family. We know your house, your church and even your family. The school you build in Psakori, we will destroy it. Misisi, Soska, Bakai Koji will pay for what they have done. Tell Stebin kefas we will also hunt him.

You can proud of Southern Kaduna and making mouth about it. Your movement is known by us. Tell your people to get ready for us Insha Allah. We will come except you go back to tell the world you are sorry for all you have said concerning the Fulani. We are coming. Nigeria is our land, Southern Kaduna is our Land. "
On two separate occasions, pastor Gideon received two threat letters. The senders declared in these letters that they would be coming to destroy his four schools and his church and kill his family. The supposed bandits wrote that they sent this threat letter in retaliation to Pastor Gideon's criticisms of their wicked actions in attacking and killing people. "They want to silence our voices." 
Thankfully, the report from the Kafanchan Church is that "their Head Pastor is committed to the development of Southern Kaduna and would not be deterred by the threat letter." (The Sun-News) 
Pastor Gideon's Contributions
Pastor Gideon has hosted seven communities and cared for over 3000 IDPs (Internally Displaced People) who were chased out of their communities. Fulani terrorist groups assaulted these communities in 2016, 2017, and 2018. Back then, he spearheaded the establishment of the Nehemiah camp (a temporary camp) at Kafanchan to help house IDPs. 
With his help, the Hope International Christian School in Missisi was built by Mission Africa International's four communities. The four communities are Missisi, Pasakori, Ungwan Maichibi, and Tudun Wada (all victims of terrorism). The school now provides free education to these children who have been out of school due to the terrorist attack. Sadly, these four communities and all that Pastor Gideon has built are under threat of attack. But Pastor Gideon says he would not be distracted by this threat.
The Kafanchan Church released its statement and insisted that it would not allow anyone to politicize. Fortunately, "security personnel are on top of the matter with the full backing of the police, DSS and SIB. The the traditional council and the immediate community." (The Sun-News) 
In the statement by the church, the church did not discount the possibility of an insider giving out information to these suspected bandits. However, the church is confident that they will overcome this storm. 
Governor's Assembly Church Statement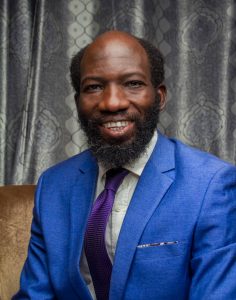 The church statement: "Our pastor, the church, and the good work in the land would not diminish irrespective of the threat. Our faith is not different from the challenges of the people of God in the past like David, Paul, Joseph, Daniel, and the three Hebrew boys." (The Sun-News) 
While tensions are high and the atmosphere is heavy. We ask that you join in prayers for Pastor Gideon and the Kafanchan Church. Likewise, pray for the communities of Missisi, Pasakori, Ungwan Maichibi, Tudun Wada, and Southern Kaduna. That the Lord will let peace reign.
Our Late brother and missionary Leviticus Makpa and his son were victims of these bandit attacks. However, they have failed to silence Leviticus' voice or his good works. Our voices cannot be silenced, our prayers cannot be silenced, and our good works will never be silenced.