Yorùbá
Yorùbá
Download our mobile app to listen and read the New King James Bible in Yoruba language.
Just few taps to everywhere.
Few taps to everywhere.
Old and New Testament.
Old and New Testament.
Audio Bible without internet.
Audio Bible without internet.
Pidgin
Pidgin
Audio Bible brought to you in our favorite African Pidgin English, recorded in Abuja, Nigeria.
Genesis to Revelation.
Genesis to Revelation.
Simplified pidgin language.
Simplified pidgin language.
Audio Bible without Internet.
Audio Bible without Internet.
Yoruba Audio Bible is also available on
Thanks for donating to Benita Leviticus's Monthly Support
We are Grateful, But God is the Rewarder.
This message is to every kind-hearted person who donated, especially those from Instagram, since we do not have any direct way of contacting you on Instagram, this blog post is to appreciate you for your kind gesture. Special thanks to @pst_iren, @lajuiren, @theblackwriter, and everyone sharing the story.
Many of you remember Mrs. Benita Leviticus, the wife of the late missionary Leviticus Makpa who was slain by Fulani herdsmen in Niger state a few weeks ago. We have short audio of her appreciating and thanking everyone below. I assure you it is very touching and encouraging.
Our Missionary Leviticus Makpa slain by Fulani Herdsmen
A true martyr for the Kingdom
With my weak fingers, I am typing this message to honor my brother, a true missionary, Bro Leviticus Makpa.
I must inform you that Brother Leviticus has been carried with his 2 years old son by the angels into the presence of our King.
Sponsor 1 Device for the Elderly
Solar-Powered Elderly-Friendly Audio Device
A heavy burden is laid on our hearts at DaBible Foundation for the elderly in remote villages. Many of which, their children have relocated to big cities. Some are at such an old age, that they're unable to walk to church meetings. Many of them cannot read or write, and cannot operate a mobile app. So, they are at a great disadvantage in having access to hearing the gospel.
Many of them stemmed from a background of worshipping idols, and they pray with incantations and African proverbs. They are labeled as witches, and one to two of them are dying on a daily basis
Welcome to DaBible Foundation
All the members of the DaBible Foundation are simply a group of young youths. We run an open-source organization which means, everyone can contribute! Yes, what you just read is correct, we are all just volunteers who have great zeal for putting the bible into the hearts of our generation.
We currently have two mobile apps, Yoruba Audio Bible, and Pidgin Audio Bible,  which are available on both Apple Store and Google Play. Currently, we have finished the recording of our Hausa Audio Bible, which will be released in 2021. We are also looking forward to volunteers and sponsors, who will love to work with us on the Igbo Audio Bible and other Nigerian languages.
The most important project on our hands right now is the elderly who cannot use a mobile app, read or write, and also living in remote villages. If you have not read about the project, please visit our Solar Audio Bible page to know more about what we are currently developing to support our elderlies in remote villages.
Our Bible Versions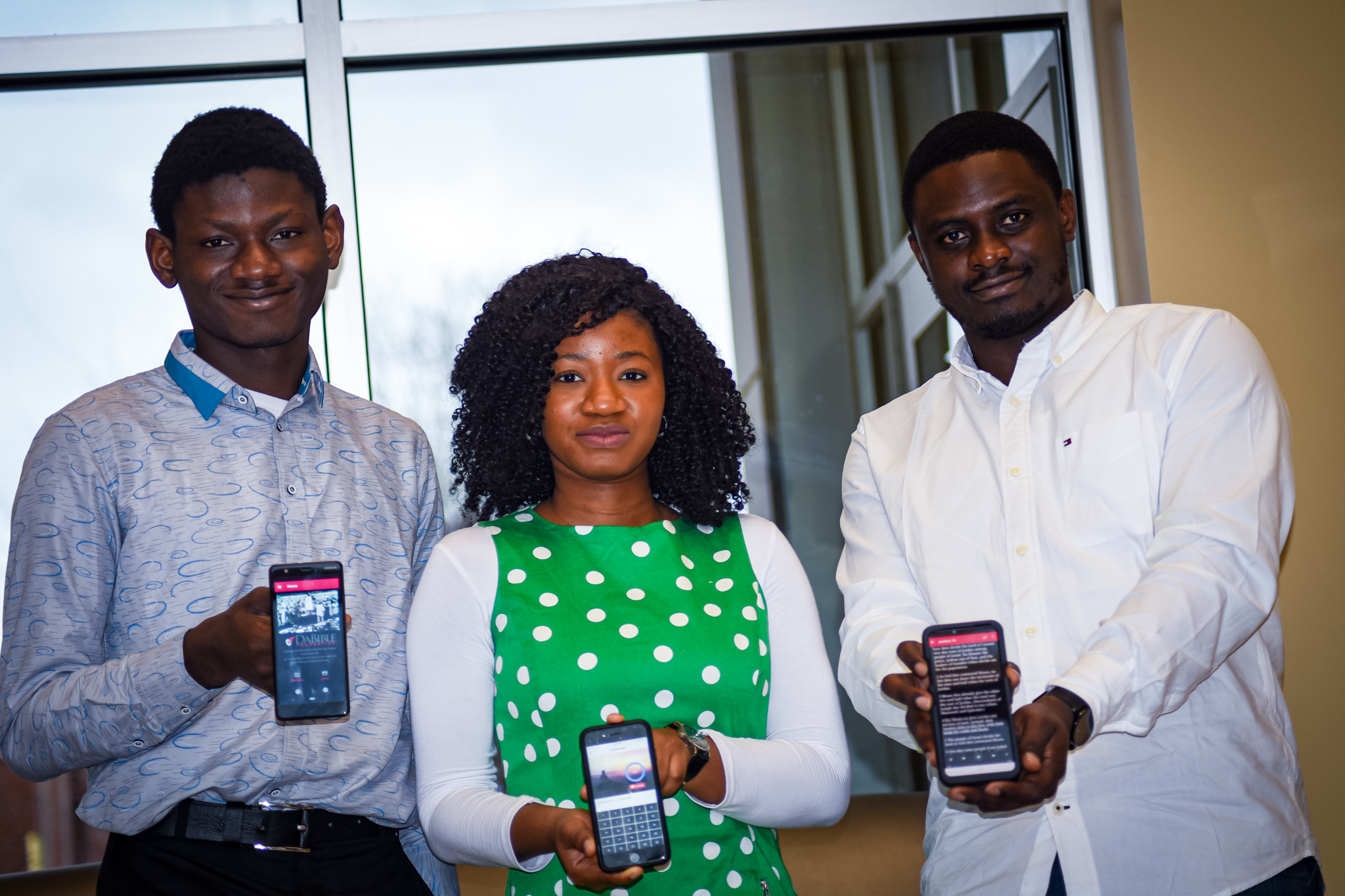 Yoruba, Pidgin, & Hausa Audio Bible
✔ No Internet required to READ Bible Text at all.
✔ No Internet is required to LISTEN to audios AFTER you download.
✔ Delete unwanted downloaded chapters on your phone memory.
✔ Optimized download speed for the fastest user experience.
✔ Drama interactive, great audio quality, and correct pronunciation.
✔ Headings and subheadings included.
✔ Switch between Yoruba and English language without interruptions.
✔ Proper punctuation and correct audio pronunciation.
✔ Share Bible verses on Facebook, Twitter, Whatsapp etc
✔ Easy navigation of Bible books and chapters
✔ Increase or reduce the font size to desired sight level
✔ Simple-One-Click option to download bible chapters