We have good news, dear readers and app users. DaBible Foundation's Yoruba Bible is now available on EasyWorship. Some of you may not know what Easyworship is; well that is no problem. Rather than have you spend your data searching for it, I will do my best to explain it. EasyWorship is a software used for displaying bible texts and presenting lyrics in many churches. If your church has a TV, projector, or screen that displays bible verses or songs, then your church is most likely using the software. EasyWorship is one of the very few faith-based software available. EasyWorship is a faith-based software intended for believers and to be used in church settings.
Many churches around the world use EasyWorship for their worship services. That is why DaBible Foundation is proud to have its very own Yoruba bible text on EasyWorship. DaBible Foundation, the very same NGO (non-governmental organization) that developed the Free Yoruba Audio Bible app and Free Pidgin Audio Bible app now offers Yoruba Language translation into King James Version on EasyWorship. Now you can read the bible in the Yoruba language on your large screens, projectors, or LCD walls. AWESOME! Personally, it is a dream come true. Likewise, at DaBible Foundation we believe this is a step forward in the right direction. Our mission will always be to share the gospel of peace. 
In our previous blog post, Vote and encourage Yoruba Bible on EasyWorship, we informed readers that we made a request to have the Yoruba language version of EasyWorship. Not long after, their support team responded back. They were open to having our Yoruba, Hausa, Pidgin, and Igbo language translations on their platform. We began talks on the project and three months later we are glad to announce the completion of this project 
Three Easy Steps to Using Yoruba Bible on Easyworship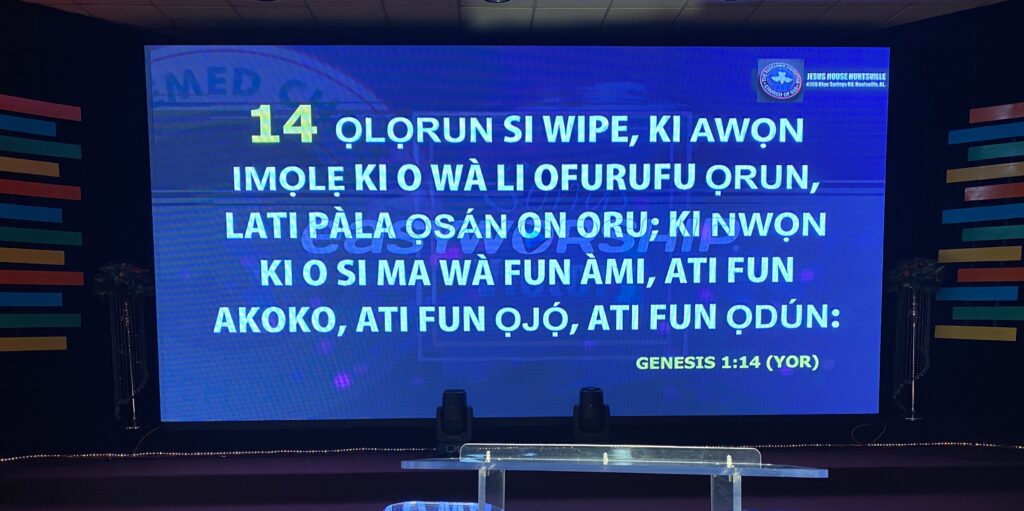 Step One: Find the Yoruba KJV Bible
Go to the EasyWorship software on your PC (it is not available on Mac sadly). Start up the software and then look for the Scripture tab. It is on the left side of your EasyWorship software; click the Scripture tab.
Below the Scripture tab, you will find a list of pre-installed bible versions. Click the "More available" tab.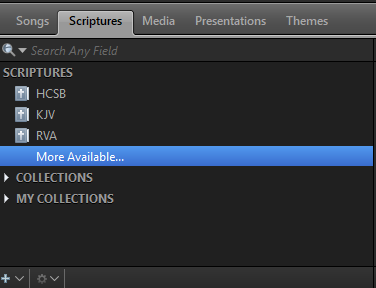 *Note: EasyWorship is not available on Macs*
After clicking this tab, a list of bible versions will come up on the right side of your screen. Scroll down the list until you see Yoruba KJV.
Step Two: Install the Yoruba bible on EasyWorship 
On the line that reads Yoruba KJV, please find the button that says FREE and click it.

After clicking the FREE button, a new icon "downloading" would pop up, and a short while later it should display "installed." Make sure the "Visibility tab" check box on your left is checked.

*Note: the file is not large and should not take much data to download*
Step Three: Present the Yoruba Bible KJV
You should now see "YOR" on the left side of your screen below the Scripture section. That is the Yoruba Bible, click on it and you should be able to access the Yoruba bible for Easy worship.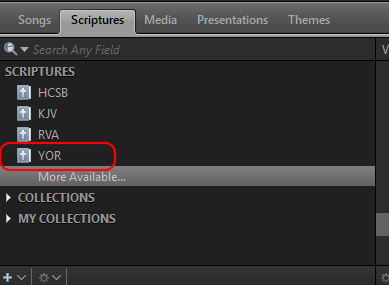 Here is a sample image of what you will see using the Yoruba KJV.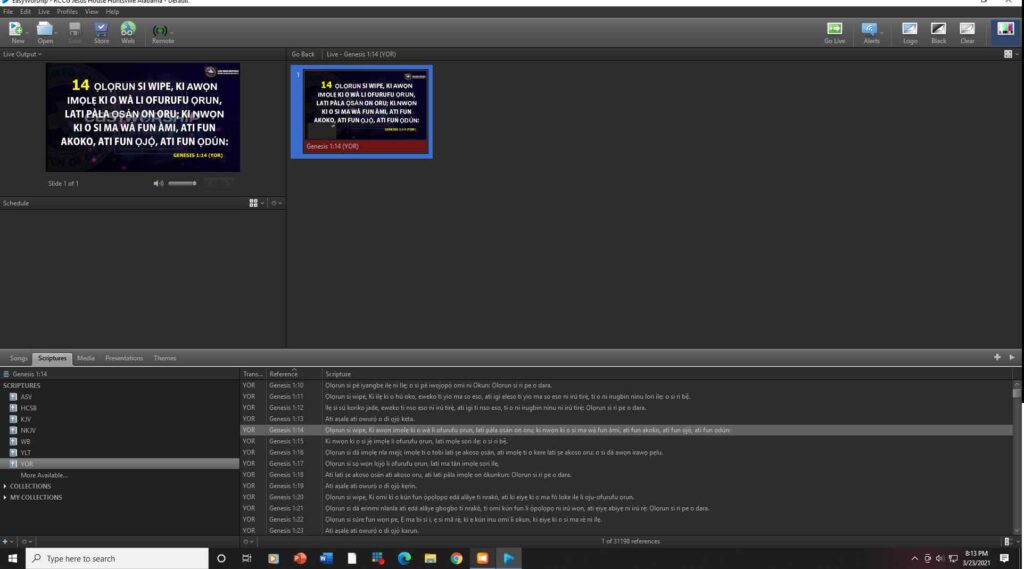 I hope after this short tutorial, you are able to use the Yoruba KJV on EasyWorship. Thank you.