Exciting news, readers. We now have the Nigerian Pidgin Bible available on EasyWorship. As you may know, DaBible Foundation's goal has always been to have bibles translated into our native languages on as many platforms as possible. Our partnership with EasyWorship has been a tremendous push toward reaching this goal.  For those who do not know, EasyWorship is a faith-based software used in many churches worldwide for their live displays.
About a month ago, we announced the release of the Yoruba Bible on EasyWorship and we are quite elated to announce that the Pidgin Bible now has its place on EasyWorship too. Wow! Isn't this exciting news? Dear readers, there isn't much to talk about other than this wonderful news… Well, that's not completely true; in fact, I have got some spoilers for you at the end of this post so watch out!
If you are a tech enthusiast like me or part of a church's media crew, this should be exciting news for you. The option of the Pidgin Bible is now available, and it is easy to use. To access the Pidgin Bible on EasyWorship, take a look at our previous blog post Yoruba Bible is now available on EasyWorship. There is a short tutorial at the end of this blog that will guide you through setting up the pidgin Bible on Church's EasyWorship. A
How to Get the Nigerian Pidgin Bible on your EasyWorship?
Step One: Find the Nigerian Pidgin Bible
On your EasyWorship, start up the software and find the Scripture tab (It is on the left side of your EasyWorship view).
Click the Scripture tab. Below the Scripture tab, you will find a list of pre-installed bible versions. Click the "More Available…" option.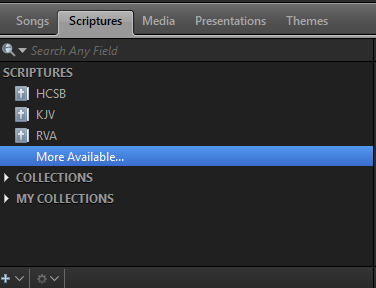 Once you click this tab, a list of bible versions will pop up on the right side of your screen. Scroll down this list until you find Nigerian Pidgin Bible.

Step Two: Install the Nigerian Pidgin Bible on EasyWorship 
On the line that reads Nigerian Pidgin Bible, there is a button that says FREE; click it. The Pidgin Bible will be installed shortly.


Step Three: Present the Nigerian Pidgin Bible on EasyWorship
On the Scripture tab, you will now see "PIG." This is the short-hand for the Nigerian Pidgin Bible, click on it and you should be able to view the Pidgin Bible on Easy worship.
I hope after this short tutorial, you are able to use the Pidgin Bible version available on EasyWorship.
On to the Spoiler!
Hausa Bible is also now on EasyWorship. Whoop whoop! Don't worry, we're going to be making a blog about it soon.
Spoiler Ends!
I would like to end by sending kingdom greetings to every Christian (whether you are a child, a young believer, or an old-timer) in every part of the world to keep up your journey in Christ. Also, If you haven't subscribed to our email list please make sure to subscribe. We have amazing surprises for our subscribers.