We are excited to share with you our greatest desire this year 2023: to tell the world about Jesus and win more souls to the King of Glory, especially in difficult places in Africa, low-income communities, victims of terrorism, and orphans.
We launched this burning desire with a retreat and an outreach with our team of volunteers from the 23rd to the 25th of March. We welcomed a team of great people from Abuja, Kaduna, and Kafanchan to our mission in Nassarawa State. They were hungry for God, and their hearts burned for the mission. Meeting these teenagers who we believe God is preparing to take the Gospel worldwide was a privilege. This is also a wonderful testimony of the Lord's transformative power. These groups of teenagers in the past walked barely clothed and engaged in idol worship or Islamic rituals. Despite their primitive lifestyles, the Lord was able to save them and cleanse them of their sins. Through His grace, He was able to turn their lives around and ignite a passion for Him within them. Today, they are on fire for God!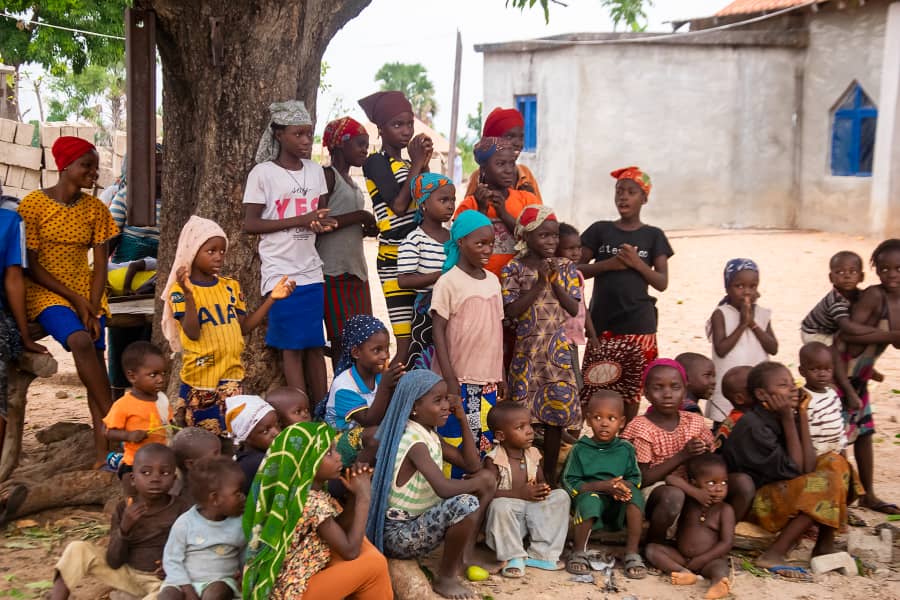 A GENERATION HUNGRY FOR GOD
This story is just one example of how powerful the Lord can transform our lives. We are so grateful for the opportunity to work with such passionate individuals committed to spreading God's Word. We look forward to continuing to work with them as we strive to bring hope and joy through the Gospel.
We prayed and fasted and God answered us with a greater understanding of His Word. We are now ready to carry out this mission in full force!
It is with heavy hearts that we remember our late brother, Bro. Leviticus Makpa gave up everything to stay with the people of Tunga Maje in 2012. We are forever grateful for his dedication and commitment to uplifting the community spiritually, morally, and academically.
We must honor his legacy by continuing his work to build a better future for those in Tunga Maje. He and his 3-year-old son were taken from us too soon, killed by the Fulani terrorist in 2021. We must strive to keep his memory alive by working together to achieve his goals.
His wife and daughter went through a lot to relocate after the tragedy, which strained the mission work in Tunga Maje. The community felt responsible and despondent at losing their source of education. Still, God used Mrs. Makpa, Uncle David, Gamaliel Emmanuel, Uncle Sanmi Ayotunde, and the Dabible Foundation team to bless the community with a new development program, and the children could continue schooling in a new location.
Jesus has been there and through it all, working in ways we least expected. His presence was surreal. The retreat was a great time for us to get together and reflect on our faith in Jesus Christ and how he works out in our lives. We got to share our experiences with one another and pray for each other. We would like to share some of these testimonies with you.
TESTIMONIES
"The experience I had from the program in Nassarawa was inexplicable, truly I have not recovered the level of fire that was rekindled in my spirit, seeing how God is grooming his children and the need to press more in God to be able to deliver my generation."
Mr. Paul
"I love the experience I had. It was a really a great one. I was privileged to be among great people both young and old who will go any length just for the hunger they have for Christ. I was amazed and challenged most especially when saw children on fire for Christ"
Hossana John
"A time of refreshing with people with same passion and hunger for his presence far away in a local community In Nassarawa is already one of the best experiences of the year for me.

Many worship atmospheres have made an impact in my life but this one was one with a difference.

The trip for me was very refreshing. On arrival, the warm reception from the kids was very heart melting not to forget the rainy reception from Mother Nature.

In short while we got settled in with the others for Kaduna and places around. A few of us took a short nap while others were up and about setting up for the evening.

Meanwhile I noticed how engaging the kids of the house were ensuring that we were ok. I could feel there love and joy of having people come visit them.

When everything was up and ready, with everyone seated, the worship meeting began before long it was a dense atmosphere of his presence. Among the ministers present were Selah, Paul, Christy, Jimmy, El-kana Blessing and the host Mr. Emmanuel and the children in the house amongst others.

The first night had us closing by about 3AM which was clearly unplanned but the Lord took over. The children were all consumed with passion for God, praying and worshiping with all their hearts. What a sight and what a night! I believe that everyone received a touch from that experience.

We closed for the day and went to bed for a few hours to wake up for the morning session by 6am.

I am very sure that not many were able to sleep before that time but we all gathered looking all alive and still hungry and ready to receive more.

The morning devotion was brief so that the children can get to school and the rest of us were to get some rest while we prepare for next meeting in the evening. Sadly for me, I couldn't make the remaining sessions as I had to return home.

Honestly, I am glad I didn't miss out on this trip. And I pray that what God is working in this children, He will perfect it to the glory of His name. And they will all live to fulfill the purpose of God for their lives in Jesus name.
Blessing Daniel
We had ministers like Selah Ogaba, Blessing Daniels, Apostle Elkana, and others who left the big stage or bigger platforms to meet in the backyard. We received a few people from the neighborhood who came and joined us Words cannot express the experienced But watch out for every single person that was part of the meeting, just like the Azuza Street revival, we see each person in the meeting, taking the gospel to other nations
Minister Bright Raymond took time to talk about Priesthood and how important they are in families and nations, we cannot leave anyhow we have to exempt ourselves and set aside for the lord.
We visited Angbaku community for outreach and went prayerful, praying for the communities we were passing through. We arrived Angbaku with singing (where two or three are gathered, Lord, you said you would be there, Lord we are here, we honor your presence).
The children in the community heard our voices, and they began to troop; it was a life-changing moment of Prayers, preaching, play, and sharing of Gifts to every child. Nearly all the children and teenagers prayed to accept Christ as their Lord and Savior. We prayed for every child. Spend time to pray for the community to be set free from every power that has held them bound and pray all the children will grow up the love Jesus and fulfill destiny. After the outreach, we returned rejoicing and spent the whole night praying for Nigeria, continuing the teaching on the priesthood, consecration for the Lord, and sacrifice. It was a night of intense worship and intercession, and we sealed the meeting by breaking bread."
We have purposed not to be satisfied with the progress made so far. The impact of the Gospel in the lives of men is now the fuel that drives us. By the Grace of God, we plan to invade another town every two months and set more Men, Women, and most importantly, children on fire for God.