A teenager wrote this article during our Queens Online Bible Study.
God is a wonderful God, but in the book of Esther, he appears silent and absent. He chose to work behind the scenes without a prophet, priest, or man of God, unlike other stories in the bible. God helped Mordecai to help Hadassah (Esther) to help the Jews. God used Mordecai to raise and teach Esther in the form He wanted Esther to be. How can a man raise a female teenager? The Bible never mentioned Mordecai's wife or children; it appears that Mordecai was a God-fearing young man who raised a teenage girl like his own without defiling, abusing, or maltreating her.
If not for Mordecai, Esther would've not even wanted to be queen, but Mordecai helped her in such a way, and I know it's "That God Way." God was the one who helped Esther to be pleasing, not only attractive but also homely, wifely, and more. God strengthened Queen Esther by giving her courage and faith to say, "If I perish, I perish," but don't get it twisted; Esther and the Jews did fast and prayed for three days and three nights.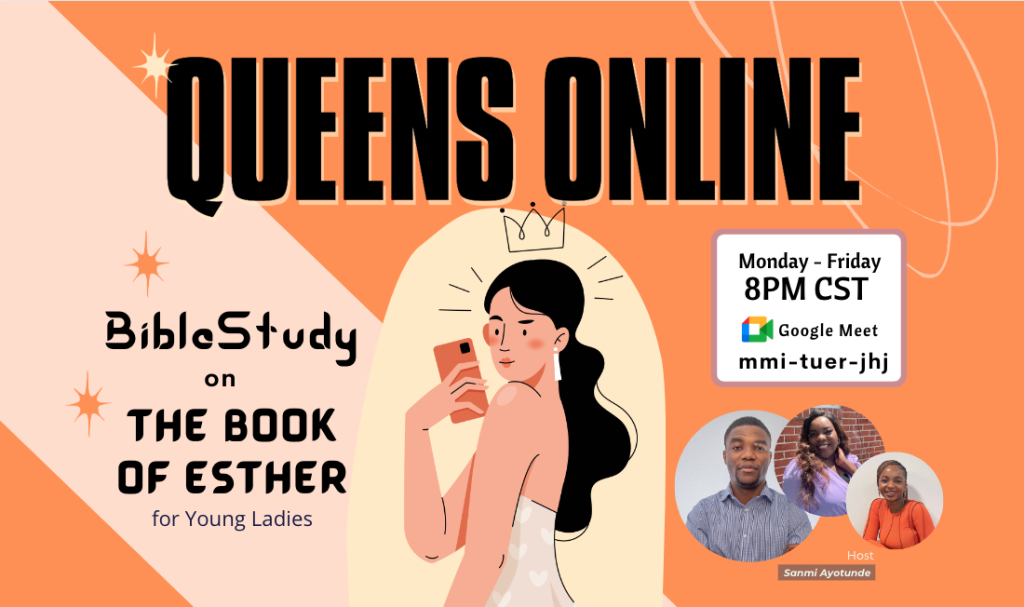 God didn't show himself with lightning and thunder, but he worked without them knowing. If you have prayed concerning what you are going through, I can assure you that God is working behind the scenes. God used Queen Esther to save the Jews from Haman's wickedness without anyone saying, "Thus saith the Lord." What a wonderful God!
King Xerxes VS Our King:
King Xerxes was a mighty king that reigned over one hundred and twenty-seven provinces from India to Ethiopia. Jesus, our King, reigns over the entire universe. Psalm 47:8
King Xerxes's kingdom was in Shushan, the citadel, and in the third year of his reign, he had a feast thrown for his officials and servants, the prince of provinces, the media, The power of Persia, and the nobles were before him. Our King's throne is in the heavens, yet he lives in us! He prepared a table before us in the presence of our enemies! Psalm 23.
Xerxes used 180 days (an entirely American school calendar year) to show the riches of his glorious kingdom and the splendor of his excellent majesty. Our glorious King has prepared 1000 years for us to wine and dine with him! A thousand years, not days! And then we shall reign with him for eternity!
King Xerxes threw another feast lasting seven days for the people that were present in Shushan, the citadel using white and blue linen curtains fastened with cords of fine linen and purple on silver rods and marble pillars; the couches were of gold and silver on a mosaic pavement of alabaster, turquoise and white, and black marble. The beauty of our God, and his kingdom, cannot be described in words! Rev 21:18-21

And the building of the wall of it was of jasper: and the city was pure gold, like unto clear glass.
And the foundations of the city's wall were garnished with precious stones. The first foundation was jasper; the second sapphire; the third, a chalcedony; the fourth, an emerald.
The fifth, sardonyx; the sixth, sardius; the seventh, chrysolite; the eighth, beryl; the ninth, a topaz; the tenth, a chrysoprase; the eleventh, a jacinth; the twelfth, an amethyst.
And the twelve gates were twelve pearls; every several gates was of one pearl: the city's street was pure gold, as it were transparent glass.

The drinks were served in golden vessels, each vessel being different from the other, with royal wine in abundance, according to the generosity of the king. Our God said, "Come unto me, ALL those who thirst and drink FREELY! And guess what? You will never thirst again! We can be filled with the Holy Ghost!
Esther went to a King who kills whoever comes uninvited; our King invites us and knocks on the doors of our hearts every day!
On the seventh and last day, when the king's heart was merry with wine, he commanded to bring King Vashti before him in her royal crown to show how beautiful she was, but she refused to come; he got angry and was soon looking for a new queen. Our own God is ever merciful and slow to anger, but there is a lot of Vashti's today who are not coming to Him!
Queen Esther, not King Xerxes, wanted to die for his people. Our own King died for US!!!
Qualities of Queen Esther
Esthers can pray and fast. For example, Esther could not ask people to fast and pray for three nights and days if she had not been doing it before.
Esthers are obedient with and without supervision. She obeyed Mordecai when he told her to hide her identity, and she did.
Esther submits to God. Esther submitted to Mordecai, and that's why she was able to submit to God.
Esthers are kind. She was not proud or felt like she was better than anyone. She gained favor with the head of the house.
Esthers have good self-esteem; she received seven maids instantly, yet was not intimidated nor sunk in fear.
Esthers know how to keep their mouth shut. If she had posted her entrance into the palace on Instagram, Jews who follow her online would have exposed her. Yes, the Holy Ghost gives utterance, but He also helps us to keep our mouths shut.
Esthers do not discriminate. She competed with people from different races and was supervised by Babylonians.
Esther did not boast, brag or vaunt herself; she let her glory speak for herself. Let your results speak for you!
Esther gave credit to whom deserved credit. For example, she told the king about Haman's plot and credited Mordecai.
Esthers love education. She understood the law, interpreted the law, and could write a new law like a learned lawyer.
Esthers are very calculative. She knew what she was doing even though it may have looked like what she was doing didn't make sense. How can you keep hosting a banquet for your enemies? I would have angrily reacted too fast.
Esthers have humility. Her humility was shown when she said, "If I perish, I perish."
Esthers are selfless. She chose death to save her people.
Esthers have wisdom. She was so wise and intelligent. She first prayed and fasted, and she asked others to do the same. This is what we call wisdom; she did not go to the battle unprepared; she was ready to do what God told her to do.
Esthers carry a special anointing called "the favor of God". She was favored in the sight of men and God.
Esthers do not just have faith in God; they also love Him. God loved Esther, which was why He made her obtain favor before the king and other men. Esther 217
Esthers are patient. She took her to pray carefully and then exposed Haman to the king.
Esthers take risks. She went to speak to the king even though she was not called by the king. We are called by the King, but most of us do not even come to the King of Kings.
Esthers know how to position strategically. She appeared in the inner court in her royal regalia. Mordecai came to the gate while Haman came to the outer court. As the bride of Christ, you cannot come to the King of Kings without a garment of Holiness.
Esthers kill her enemies with kindness. For example, hosted a banquet for Haman. Esther 6:14
Esthers do not give up in battle. She strived, persisted, and she won it.
Esthers do not leave any battles for their children. She finished them all by returning to the king to destroy all her enemies.
Esther never abused her authority as a Queen. Even though she was the kingdom's queen, she did not behave like she was more important than any of the people.